Philanthropy
International Gamma Phi Beta Philanthropy: Camp Fire USA
On a national level, Gamma Phi Beta supports Camp Fire USA. Through this not-for-profit organization over 750,000 kids learn important life skills. Offering after school programs, camping and environmental education and childcare, Camp Fire USA helps kids of all ages, races, religions, and socioeconomic statuses. Although there is not a Campfire USA in the Santa Barbara area, Gamma Phi Beta loves to show our support of this amazing organization by donating hundreds of dollars a year from our various fundraisers. Our chapter is proud that we are able to combine having fun with sisters while making a difference in our community, and giving to lots of great causes.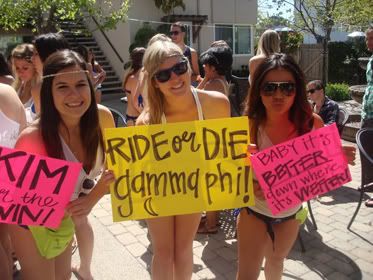 Philanthropy at UCSB Gamma Phi Beta
The Gamma Phi Beta chapter at UCSB is proud to have one of the strongest philanthropy programs in the Greek system. We received Outstanding Community Service in Isla Vista at our 2009 Greek Awards for our involvement in the Isla Vista Youth Project, an after school program for the kids at the Isla Vista Elementary School. Not only do we volunteer to play with the children and help them with their homework weekly, but we also hold a Halloween Carnival, where the kids come to our house to play games and trick or treat, and a Cinco de Mayo Carnival where we go to their school and play games with them.
Apart from local philanthropic endeavors, Gamma Phis at UCSB hold two events during the year to raise money for important causes and groups like the Gamma Phi Beta Foundation, Santa Barbara Rape and Crisis Center, Dog Adoption Welfare Group (DAWG), Camp Fire USA, The Red Cross, and many more. To raise money in the fall, we put on a pancake breakfast where we open our house to the community and serve breakfast complete with pancakes, eggs, bacon and a pancake-eating contest. In the spring we will be creating a new philanthropy... so get excited!
As members of Gamma Phi Beta not only do we put on our own philanthropies, we also participate in philanthropies put on by the other franternities and sororities on campus. Every Fall, Winter, and Spring we participate in numerous events such as volleyball, soccer, swimming, kickball, relays, and many other events. These philanthropies serve to bring our whole greek system together for fun in our gorgeous Santa Barbara weather.